In some existing power systems installations, the measured conductor cannot be opened or remove for insertion of the current transformer. In such cases Split-core current transformers allows you to easily install the CT around existing bus or cable conductors, thus eliminating the need to disconnect, move, and reconnect the bus or cable. They are perfect for applications in which the current path must not be disrupted.
Split-core CT comes with openable jaw which enables an operation free installation/removal of CTs. This split core current transformer enable the measurement of AC current waveform with galvanic isolation between the primary power circuit and the secondary measurement circuit. It comes in different current range 5A (SCT 013-005), 15A(SCT-013-015),30A(SCT-013-030),50A(SCT-013-050) upto 100A(SCT-013-000).
Split core current transformer is more suitable for application where power interruption is not allowd.
Split Core Ccurrent Transformer
CTs are generally located in the main panels or in branch distribution panels where space and intruption is always a challenge.
Since CTs are to be installed 90-degree to the current carrying conductor. CT cores are solid core type or may have a split core. The construction of core, whether solid or split defines how the CT can be installed. Solid core CTs feature a closed loop, in which the primary conductor must be passed through.
Whereas, a split core CT can be temporarily made open for retrofit installations. During which the primary conductor need not be disconnected while the CT is being installed.
Technical indicators :
Hanging installation,leading wire output
Fire resistance property:UL94-V0
Standard:GB1208-2006
Work temperature:-25℃~+70℃
Storage temperature:-30℃~+90℃
Work voltage:660V
Frequency range:50Hz-1KHz
Dielectric strength:3.5KV 50Hz 1min
Application of Split Core CT SCT013
Hybrid inverter (home energy storage)
Power metering: current measurement for active power calculation
Building sub-metering: energy efficiency monitoring, consumption analysis, and cost allocation
Power quality monitoring: electrical loads and distribution system equipment
Distributed measurement systems
Condition monitoring (e.g., motor loads such as conveyors, pumps)
SCT-013-000
Brand: YHDC
Model Number: SCT-013-000
Input Current (RMS): 0∼100A
Turn ratio: 100A:0.05A
Output Current: 0-50mA (current output Type with built-in protective diode )
* transient voltage suppressor limits the output voltage in the event of accidental disconnection from the burden.
SCT-013-030
Brand: YHDC
Model Number: SCT-013-030
Input Current: 0∼30A
Output Voltage: 1 V (Across built-in sampling resistor)
SCT-013-050
Brand: YHDC
Model Number: SCT-013-050
Input Current: 0∼50A
Output Voltage: 1 V (Across built-in sampling resistor)
Accuracy : ±1%
Linearity : ≥ 0.2%
Weight : 50g
Core Material : Ferrite
External Material: ABS Plastic
Dielectric Strength(VAC/1min :6 kV
Work voltage: 660V
Open Size:13mm×13mm
Frequency: 50Hz to 1 kHz
SCT013 Models
SCT 013 Arduino Interfacing
To connect an SCT013 sensor to an Arduino microcontroller, the output signal from the SCT013 current transformer needs to be conditioned so it meets the input requirements of the Arduino analog inputs, i.e. a positive voltage between 0V and the ADC reference voltage.
If the current transformer is a current output type such as the YHDC SCT-013-000, the current signal needs to be converted to a voltage signal using a burden resistor. If the signal is a voltage output you can skip the burden resistor, as the burden resistor is inbuilt.
Arduino Code
To measure current using this split core current transformer you need emon.h library and Arduino code in the ZMCT103 post.
STC 013 000 Arduino Interfacing
STC-013-000 modules comes without Sampling resistor, it provide current output praprotional to Input current. To convert current into voltage R5(burden resistor)18Ω to 33Ω must be added across CT terminal. Check burden resistor Calculations
STC 013 050 Arduino Interfacing
All the remaining module in STC-013 series comes with Inbuilt burden resistor. No need to add externally.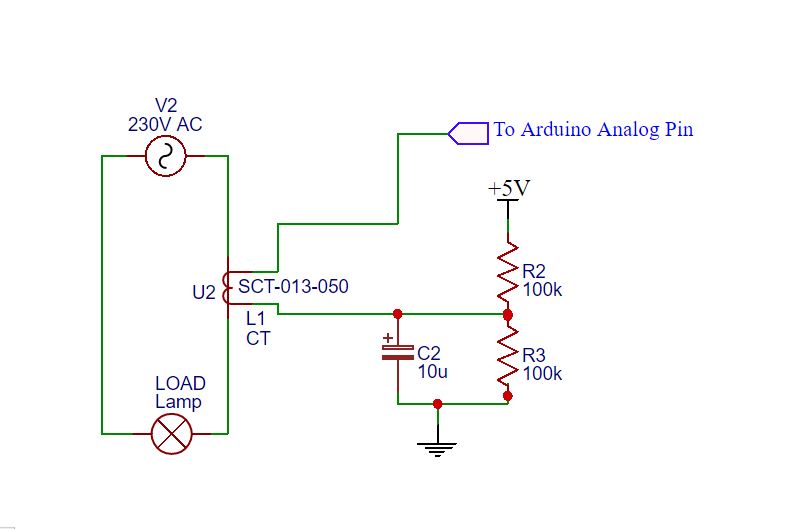 STC 013 Specification
| | |
| --- | --- |
| Core Material | Ferrite |
| External Material | ABS |
| Input Current | 100A |
| Frequency | 50Hz to 150KHz |
| Opening Size(mm) | 13×13 |
| Dielectric Strength(VAC/1min) | 6000 |
| Operating Temperature (°C) | -25 to +85 |
| Cable Length | 1 Meter |
| Shipment Weight | 0.09 kg |
| Shipment Dimensions | 9 x 7 x 3.5 cm |